The Miami International Organ Competition 2014
The Miami International Organ Competition is a bi-annual competition, sponsored by Fratelli Ruffatti and the Church of the Epiphany, with the intention of encouraging and recognizing talented young organists under the age of 30.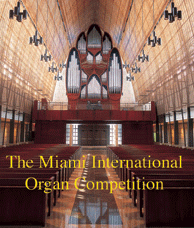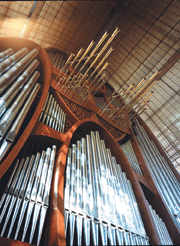 The final round of the 2014 Miami Competition was played to a near-capacity crowd on Friday evening, February 28th. Enthusiastic applause rang through the sanctuary at Church of the Epiphany in Miami as the contestants put the three-manual, 61-rank Ruffatti organ through its paces. Finalists Alcee Chriss III, Thomas Gaynor, and Christopher Keenan each played a 25-minute program. This year, nearly forty applicants from thirteen different countries and five continents submitted recordings for the comopetition. Judges for the preliminary round were Sophie-Véronique Cauchefer-Choplin, France; Jacques van Oortmerssen, The Netherlands; and Peter Sykes, USA. Judging the final round were Nicole Marane, Associate Director of Music at Peachtree Road United Methodist Church in Atlanta, Georgia; Grzegorz Nowak, Principal Associate Conductor of the Royal Philharmonic Orchestra, London, UK; and Christophe Mantoux, Professor of Organ at the Pöle supérieur and Conservatoire Régional de Paris.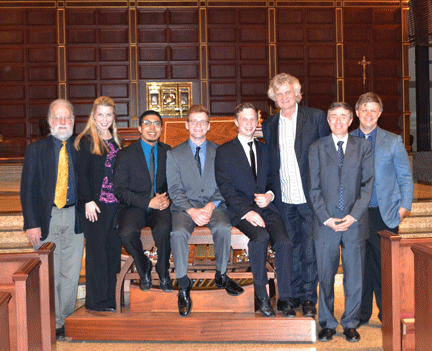 From left, Michael Barone, host of Minnesota Public Radio's  Pipedreams; judge Nicole Marane; contestants Alcee Chriss III, Christopher Keenan, and Thomas Gaynor; judges Grzegorz Nowak and Christophe Mantoux; competition coordinator Thomas Schuster.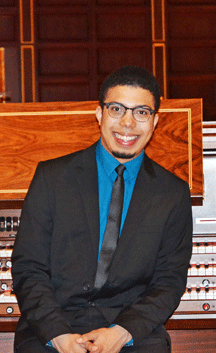 Alcee Chriss III, winner of the First Prize and the Audience Prize, has performed throughout the United States and France and is emergingin as an outstanding young concert artist of virtuosity and versatility. The youngest of all finalists, Mr. Chriss was awarded First Prize in the Albert Schweitzer Organ Competition 2013, held in Wethersfield, Connecticut; he was also the first African American to participate in the competition's ffteen year history. Winner of the 2013 Quimby Regional Competition for Young Organists in Austin, Texas, Mr. Chriss will perform as a "Rising Star" at the AGO National Convention in Boston, Massachusetts, during the summer of 2014. Alcee spent January 2014 in France, studying historic organs and repertoire and performed a concert at the Musée des Augustins. Alcee is a student at the Oberlin Conservatory of Music, where he is pursuing a bachelor of music degree in organ performance and a master's degree in historical keyboard. At Oberlin, he has studied with James David Christie and Olivier Latry, and has had studies in improvisation with Marie-Louise Langlais. He has studied harpsichord and continuo playing with Webb Wiggins and Hank Knox. He served as the 2011 Organ Scholar at the Episcopal Church of the Transfiguration in Dallas, Texas, where he studied church music under Joel Martinson. He has performed in such venues as the Myerson Symphony Center, the Kennedy Center, the Cathedral Shrine de Guadalupe, the Caruth Auditorium, and St. Paul's Lutheran Church in Austin, Texas. He currently serves as minister of music at the historic Euclid Avenue Congregational Church in Cleveland, Ohio. In addition to his organ and harsichord studies, Alcee is active as a continuo player, conductor and jazz pianist.
Post Benedictionem (In Festo Corpus Christi) • Anton Heiller (1923-1979)
Vivace (Trio Sonata II) • J. S. Bach (1685-1750)
Choralvorspiel und Fugue über "O Traurigkeit, O Herzeleid" • Ethel Smyth (1858-1944)
Variations sur un Noël, Op. 20 • Maurice Duruflé (1902-1986)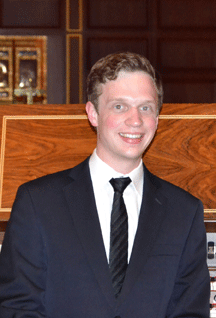 Second Prize went to Thomas Gaynor of Wellington, New Zealand. Mr. Gaynor began his musical studies at age ten with piano lessons, moving to the organ at thirteen. In 2004, he took up an organ scholarship at St. Paul's Cathedral in his hometown, a position he held for seven years. He more recently was awarded the title of Honorary Sub-Organist. He completed his undergraduate studies in organ performance at the New Zealand School of Music under the tutelage of Douglas Mews. He also studied liturgical organ playing with Michael Fulcher. Currently, he resides in Rochester, New York, where he is in the final semester of the Master's degree in Organ Performance and Literature at the Eastman School of Music, New York, studying with David Higgs. In 2013, Mr. Gaynor was awarded second place in the Arthur Poister Organ Competition and was a finalist in the Longwood Gardens International Organ Competition. He is the recipient of an Arts Excellence Award from the Dame Malvina Major Foundation, the Kiwi music scholarship, a Freemasons University Scholarship and the Maxwell Fernie Trust Scholarship. He has participated in masterclasses and workshops with a number of organists, including Michel Bouvard, Cameron Carpenter, James David Christie, Ken Cowan, Olivier Latry, Jaques Van Oortmerssen, Stephen Tharp and Harald Vogel. In his spare time, he enjoys cooking for friends and gardening.
Le monde dans l'attente du Sauveur (Symphonie Passion, op. 23) • Marcel Dupré (1886-1971)
Study IV in A-flat "innig" (Six Studies in Canonic Form, op. 56) • Robert Schumann (1810-1856)
Trio Super "Herr Jesu Christ, dich zu uns wend", BWV 655 • J. S. Bach (1685-1750)
Final (Sixième Symphonie, op. 59) • Louis Vierne (1870-1937)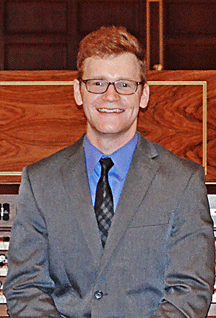 Christopher Keenan claimed Third Prize in the competition. He is pursuing a Master of Music in Organ performance at the University of Texan, Austin. He studies organ with Matthias Maierhofer and piano with Anton Nel. He received his Bachelor of Music in organ from The Peabody Conservatory, where he studied organ with Donald Sutherland and piano with Marian Hahn. He frequently played with the Peabody Concert Orchestra and also was a featured soloist with the Peabody Singers on an all-Bach program. Mr. Keenan has performed in venues across the United States, England and France, including Westminster Cathedral, Albert Hall (Nottingham, UK), and National City Christian Church in Washington, DC. He attended Oundle organ courses in both Toulous, France, and Northamptonshire, England, but is especially interested in the German Baroque tradition of organ music. Originally from the Nashville, Tennessee are, Christ is also a singer/songwriter. In addition to playing music, he enjoys running and recently completed the Austin Half-Marathon. He currently serves as organist at University Christian Church, Austin, Texas.
Magnificat II Toni – Primus/Secundus Versus • Matthias Weckmann (1616-1674)
Fugue in G Minor, BWV 542 • J. S. Bach (1685-1750)
Impromptu (Pièces de fantaisie, op. 54/2) • Louis Vierne (1870-1937)
Dieu Parmi Nous (La Nativité) • Olivier Messiaen (1908-1992)
Visit us on Facebook to see more photographs.